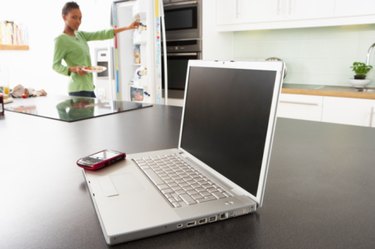 The option to view text messages online can help cell phone users see messages when they do not have access to their cell phones. It also is useful for parents who want to monitor their children's text conversations without confiscating their phones. Software companies offer products that allow looking at text messages without a cell phone. These products cost money but do offer a more comprehensive way to view texts online. Cell phone service providers also offer different online capabilities.
Text Message Spyware
Spyware software is initially loaded onto the cell phone. Once in place, the software sends the text messages to the software company's server. Then the messages are stored in an online account to be accessed by the account holder. Even if the cell phone user erases the texts from the cell phone, the text messages are recorded and saved on the site.
Online Text Messaging Services
Online text messaging services let users receive and send text messages from their computers. The user needs to be logged into the service's website to create text messages and view reply texts. People who do not have their phones can log onto any computer and still use text messaging to communicate. Many of these services are free.
Cell Phone Service Providers
Some cell phone service providers offer the opportunity for users to send text messages from a computer to a cell phone. The service will indicate when the text has been received but will not retrieve returned texts. Those messages go directly to the cell phone. The sent text messages also will not be saved online. Another option available from some cell phone service providers is the ability to set up an online photo album. This allows users to save photos that are sent by text messages to an online account to be viewed or retrieved later. Photos taken by the user's cell phone can also be saved to this online album.