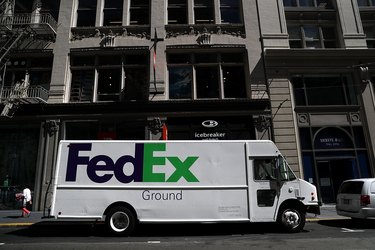 If you're expecting a package from FedEx with a signature required, but you won't be available on the expected delivery day, you have several options. In most cases, you can either have someone else sign for the package or sign a form to waive the signature requirement. You could also have the package delivered where you'll be or have it held for later pickup. Even if you get a FedEx missed delivery notice after a failed delivery attempt, you can expect FedEx to make additional delivery attempts and give you multiple ways to safely get your package.
The FedEx Delivery Process
When creating a shipment using FedEx, the shipper determines if a package needs a signature and who has permission to sign for it, such as a relative or a neighbor. If the sender doesn't require a signature, you'll get your package even if no one is present when FedEx visits. In this case, the FedEx delivery person will simply leave your package at your doorstep or at another designated location.
If the delivery driver can't get a required signature, he'll leave a FedEx door tag with details about the delivery attempt and about options for getting your package. The tag typically lists a FedEx location where you can pick up the package during business hours and notes that another delivery attempt will be made the following day. You can also sign the tag and leave it on your door for the next delivery attempt.
Consider Other Signature Options
Even if you won't be there to personally sign for the package on the first or next delivery attempt, you can have someone else sign to prevent a delay receiving your package. The sender may require either a direct, indirect or adult signature. For a direct or adult signature, you can have anyone at your home address sign for the package, but that person has to be 21 or older to provide the adult signature. If your shipment requires an indirect signature, you can have your neighbor, landlord or other authorized person nearby sign for the package.
Sign a FedEx Signature Release
If you won't be home and have no one else available to sign for the package, you may be able to fill out a FedEx signature release form online that waives the signature requirement for the initial delivery. However, availability for this option is up to the shipper, so you should check your shipping confirmation email or FedEx tracking page to see if the form is available. Be aware that, because signing the signature release form means FedEx isn't liable if the package is stolen or damaged, this option may not be ideal for high-value items like computers and mobile phones.
Make Changes to the Delivery
You have the option to change the delivery time, date and place both before the first delivery attempt and after a failed delivery. This service comes with a fee depending on the delivery location's distance and preferred time range for delivery. However, it does give you the benefits of having the package delivered to where you'll be (such as your workplace) or choosing another day and time when you'll be home. Call 1-800-GO-FEDEX, use the FedEx Delivery Manager website or select the reschedule option on your shipment's FedEx tracking page.
Request to Hold for Pickup
Instead of having FedEx attempt a delivery at your home or another location, you can allow delivery to another location such as a FedEx Ship Center, Walgreens, Kroger, Albertsons or FedEx Office. Either call FedEx or visit its website to request this free option. By choosing a nearby business to hold your package, you get the benefit of being able to sign for it and pick it up at a convenient time without worrying about an unattended package.