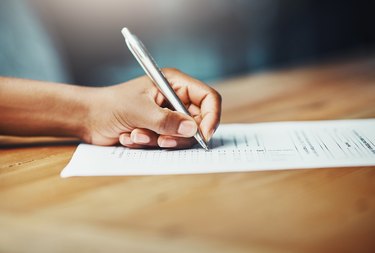 It's never been easier to change your mailing address with the U.S. Postal Service. Although you can no longer print the USPS Change of Address form from your computer, there are alternatives. You can submit your address change on the USPS.com website for a small fee or pick up the paper forms at any USPS location and fill them out for free.
Post Office Change of Address
At one time, being able to print PS Form 3575 from the USPS website was a convenience. It saved you the trouble of making a trip to the post office to pick one up. However, as technology advanced, printing out the form and taking it to the nearest location or dropping it in the mail became an inconvenience. You now notify the USPS of your change of address using the online change-of-address service.
Completing your change of address online isn't free. The USPS charges a $1.05 fee for verifying your identity, but it saves you a trip to the post office, so you can factor in what you save on gas, not to mention the value of your time.
If you want to save the fee, or you aren't comfortable giving your credit card number for identity verification, you can always pick up PS form 3575 from your nearest post office and submit it directly to the clerk behind the counter. You'll usually find these in the area where other forms are set out for customers. It's often inside a booklet called Mover's Guide.
The Change-of-Address Process
To get started completing your change of address online, go to moversguide.usps.com/mgo-m/ and select Get Started. The site walks you through the process. There are typically coupons and offers as part of the online Mover's Guide. You can print these to use later.
After you submit the U.S. Postal Service change of address, the post office mails a confirmation letter to your departing address to verify that you are, indeed, moving. Within five days of the date you stated was your move-in day at the new address, you receive a Welcome Kit that has a confirmation code. You need this code if you want to change or cancel your change-of-address order.
Temporary Forwarding Orders
In some instances, you may be staying somewhere temporarily. Perhaps you're spending the summer at your vacation home near the beach, or you're staying with family for a while. If your stay is 15 days or longer, you can use the change-of-address form to forward your mail to the new location.
When you complete PS Form 3575, check the Yes box at the top that asks Is this move temporary? You then input the date that forwarding should be discontinued just below that box. You can only input a date up to a year in advance, but after six months, you can extend the forwarding order for another six months. The online system prompts you to enter the same information that was included on Form 3575.
In addition to U.S. Postal Service change of address, the post office offers a premium forwarding service. With this service, the postal service packages up all your mail every week and ships it to you. You can use this service for between two weeks and one year. There is a fee with this service of $21.10 per week, as well as an enrollment fee of $19.35 if you sign up online or $21.10 if you sign up at a USPS location.