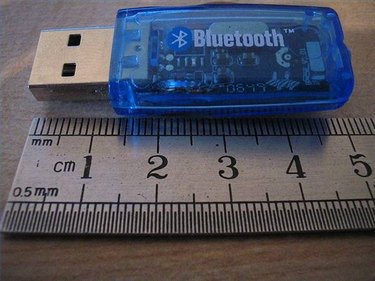 If you are a fan of wireless electronics, such as keyboards, mice and headsets, then you have probably heard of Bluetooth technology. This micro-networking technology makes it possible for several compatible devices to work simultaneously with one host computer. However, if you have all the Bluetooth accessories, but don't have a Bluetooth-enabled computer, fear not! Making your Bluetooth devices work with your computer is as easy as installing a Bluetooth dongle adapter.
Definition
A Bluetooth Dongle adapter is a Bluetooth adapter that connects to your computer via USB port. It is different from other Bluetooth adapters that can be installed inside your computer, and as such, enjoys much greater popularity than other, more expensive and less user-friendly Bluetooth adapters.
Installation
Installing your Bluetooth dongle adapter is very easy. Simply plug the adapter into an unused USB port--where you won't mind it staying--and then insert the Installation CD that came bundled with the dongle adapter to download all drivers and software necessary for the Bluetooth devices to run correctly. Once everything has been installed, simply restart your computer and your dongle adapter will be fully installed and operational.
Using your Adapter
To get the most out of your Bluetooth dongle adapter you will need to sync it with Bluetooth peripherals. As mentioned previously, this could be anything from keyboards to headsets and even video game controllers. To sync your devices with the Bluetooth adapter, simply put the Bluetooth adapter in sync mode via the desktop software you installed previously (see your owner's manual for more on this) and then put the peripheral in sync mode as well. Once these devices "find each other" they will be able to work together in your Bluetooth personal area network. These devices can each be managed individually using your Bluetooth software, so if you need to make changes or set preferences, you can do that by starting up the software from the start menu.
Troubleshooting
Bluetooth dongle adapters are very user-friendly, but that doesn't mean that some have not experienced problems with them. One very common problem is the USB port specifications. If you have an older computer (manufactured before 2006) you will need to find out if your computer has USB 2.0 ports and where. Since Bluetooth is a high-speed networking tool, it needs the faster 2.0 speed in order to function correctly. Another common issue consumers have with Bluetooth dongle adapters is getting them to sync correctly with peripherals. Syncing your peripherals is more art than science, and you'll have to engage the sync mode on both the adapter and the peripheral at exactly the right time in order for them to discover one another and form a network link.
Where to Find
Finding Bluetooth dongle adapters is easy. They are sold at most major computer and electronics shops like Radio Shack and Best Buy, but also at "big box" stores like Wal-Mart and Target.