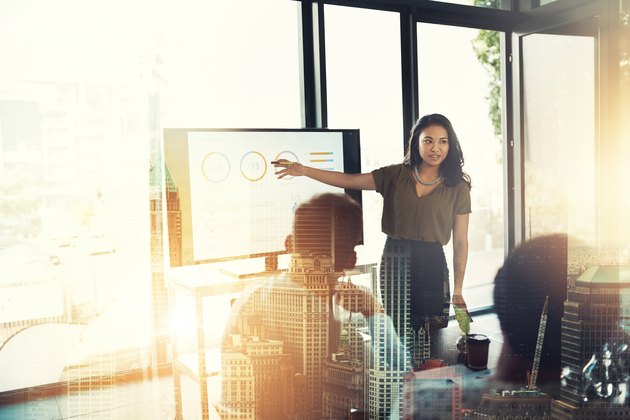 Since its debut in 1987, PowerPoint has become one of the most iconic and ubiquitous software resources in the world. Thanks to an intuitive interface and highly accessible design, PowerPoint is now a core component of both the business and academic sectors. Much like other software tools that achieved global usage, PowerPoint has its own fair share of terminology and lingo. The term "deck" has become synonymous with the grouping of slides that fill your presentation. When a colleague or peer refers to your PowerPoint deck, he's specifically referencing your collection of PowerPoint slides which, as a whole, constitute your overall presentation.
Creating a PowerPoint Deck
When you begin creating a new PowerPoint presentation, you're essentially creating a new PowerPoint deck, or PPT deck, as well. Whether your presentation consists of a single slide or dozens of uniquely designed slides, the end result of this creative process is your "deck."
When you first open PowerPoint, you'll see an introductory menu that allows you to establish a general theme for your slides. You can adjust a variety of parameters at this point, ranging from specific background styles to font usage, color selections and various effects that can be used to complement your presentation. What you choose to do with your deck from this point forward is entirely up to you.
Planning Your Deck
Within the PowerPoint interface there are a variety of tools available to users which will allow you to sort and edit individual slides within your deck as you see fit. Using a simple click-and-drag method, you can rapidly arrange single slides to create a cohesive narrative framework within your PowerPoint deck. Or, if you're still in the early stages of your presentation planning, you can use this method to experiment with various layouts and determine your optimal deck arrangement.
Exporting Your Deck
When your deck is complete and your presentation is finalized, you can export your slides in one of several formats, including pictures and video. Whatever you choose to do, it's strongly recommended that you archive a copy of your deck in its original form so you can quickly and easily return to this content later.
If, after completing your deck, you decide that your presentation doesn't quite have that professional polish, consider purchasing a deck template from one of several websites catering to this service. You can then quickly import your content into the template, ensuring a professional appearance for your deck.