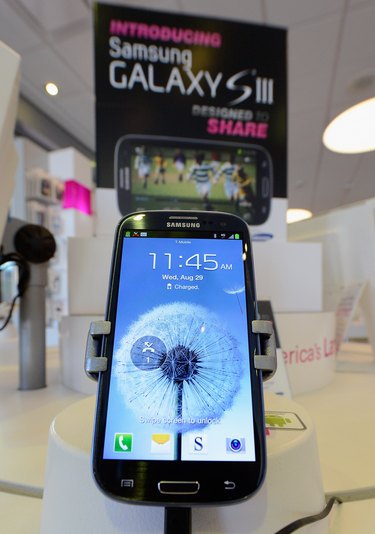 Android phones are built to be versatile, and even Apple's co-founder Steve Wozniak has readily repeated that Android beats the iPhone when it comes to application versatility. The phone, operating on a Linux-based operating system designed by Google, allows users to open and edit documents via the free Google Drive app. For users' convenience, documents are automatically updated in the cloud, which means you can easily share documents between your Android and computer. An easy way to use bold letters on the Android -- and to avoid overly complicated programming language -- is to utilize the bold function via Google Drive.
Step 1
Go to the Google mobile website on your Android's browser. Click the "Download from Google Play" link.
Step 2
Click "Install." Select your Android phone model from the list of devices on the "Send To" drop-box menu.
Step 3
Tap the "Install" button in order to download the Google Drive application directly to your phone. In a minute or so, Google Drive should be installed onto your phone.
Step 4
Go to the apps section on your phone and tap on "Drive" to launch Google Drive.
Step 5
Tap "Accept" to agree to the app's terms and conditions.
Step 7
Tap "Create New," which is at the top of the screen. Click "Document."
Step 8
Type in the appropriate name for the document using your on-screen keyboard. Tap "OK."
Step 9
Tap the blank screen, which will bring back the on-screen keyboard and text options. Type text into the screen's interface.
Step 10
Tap the screen and hold your finger down on a word, which will highlight it. Tap and drag the highlighted word's handles to highlight other words within the document.
Step 11
Tape the "B" icon, which is at the top of the screen. This will change the highlighted letters to bold.
Step 12
Tap the "Done" button, which is at the top-left corner of the screen. This will save any changes you have made. Share the document via email or Bluetooth.