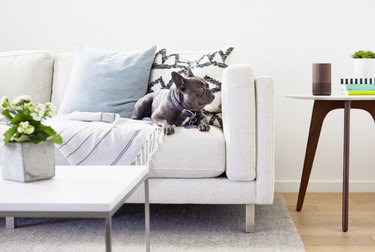 Alexa Guard is Amazon's security feature that launched last year for newer Echo devices, and as of Tuesday, it's finally available for all Echo devices.
Once set up and activated, Alexa Guard turns your smart speaker into a security device. It can listen for security issues while you're out of the house, like breaking glass or a smoke alarm going off. Alarming sounds trigger Alexa to send out 10-second video clip alerts to your phone, or if your device as a built-in camera, you'll receive an alert with access to a live video feed into your home. If you have an ADT or Ring alarm system, the feature can automatically set off the alarm—otherwise it isn't connected to security response.
You can also use Alexa Guard to create a smart light schedule so it looks like you're home when you aren't. To activate the feature, you'll need to say, "Alexa I'm leaving" or "Alexa, I'm home."
Here's how to set up Alexa Guard
Go to the Alexa app
Tap the menu button on the top left corner
Choose "Settings."
Choose "Guard."
Tap "Set up Guard."
Follow the steps to set up the various smart alerts.
Enter your zip code, so smart lighting knows when to turn on.
Tap "Confirm."