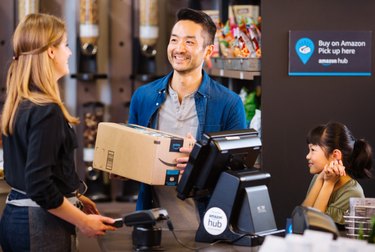 Amazon is making it easier for you to receive your packages—that is, if easier means driving to Rite Aid instead of having them delivered to your doorstep.
The company announced the launch of Counter, an in-store pickup service available in over 100 Rite Aid stores in the U.S. It works like Amazon's existing Locker service, where you order your items and select the store you want your package shipped to. However, instead of being kept in a locker, the packages can be picked up at your local Rite Aid store.
When your items arrive at the store, you'll be emailed a bar code, as well as the address and store hours of the store you chose. At the Rite Aid counter, you'll need to show the employee the bar code, which will then be scanned to locate your items.
Delivery to a Counter location works with Same-Day, One-Day, Two-Day and Standard Shipping, and it's available to all customers at no extra cost.
Amazon intends to extend the service to 1,500 Rite Aids stores by the end of the year, with plans to add more retail partners.