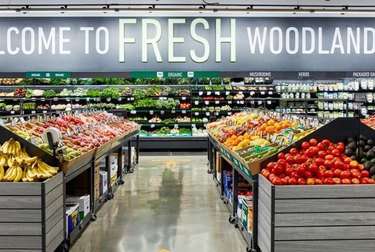 Amazon's very first Fresh grocery store is officially open in Woodland Hills, California, and there are likely more stores to follow if all goes well.
The Fresh store supplies a wide variety of national brands and high-quality produce, meat, and seafood—all at low prices. It also offers prepared food made fresh in the store each day, including pizzas, hot sandwiches, and baked bread, according to Amazon's announcement.
To keep everyone safe amid the coronavirus pandemic, employees and customers are required to wear face coverings, with free disposable masks available for customers who need them. Employees will receive daily temperature checks, and the store will be operating at 50 percent capacity.
Of course, since Amazon is a tech company, the store is a lot more high tech than most. Amazon Dash Cart lets customers skip the lines and pay automatically as they leave the store through the Dash Cart lane. And there are several Amazon Echo Show devices placed throughout the store, so if customers need help finding something, they can say, "Alexa, where can I find eggs?"
Customers can also choose same-day delivery or pickup from the store if they prefer not to be around too many people. Same-day delivery is free for Prime members.
For now, the store is open by invite only to select customers in Woodland Hills. In the coming weeks, it'll be open to the public.