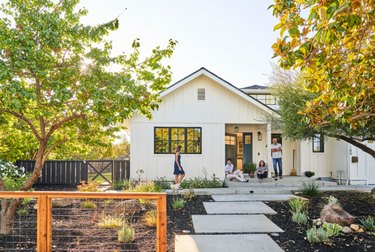 Now that you're spending more time in your home than you ever thought possible, it makes sense that you'd want to create a yard that you absolutely love. Of course, redoing your landscaping is a big undertaking, but here's some good news—you don't have to do it alone.
Yardzen is an online landscape design platform that makes designing your front, back, and even side yard really easy. Whether you want to fully redesign your space or work with what you currently have, Yardzen completely personalizes the entire process. Once complete, the results are stunning. I know, because I used Yardzen to redesign my backyard. My honest opinion of how it went? Worth every penny.
Sign up and choose the space you want to design. You'll fill out a project profile, which includes taking a style quiz, sharing photos and videos of your yard, and telling your personal landscape designer about your budget, must-haves, and must-have-nots. This takes about 30-45 minutes, depending on your thoroughness, and then the hard part is done—for you anyway. At this point, you can opt to have a call with someone on your design team to talk things through and make sure you didn't leave anything out.
In about a week, you'll receive a digital model of your property. It's based off the videos and photos you sent as well as satellite images—and it's surprisingly accurate considering it's all done without visiting your home. After you approve the model, the designer then gets to work by mapping out your priorities with a focus on "functional zones with intelligent flow between spaces."
The design team works with the build team to select durable items that fit within your budget. They also work with a horticulturalist who chooses plants based on your unique yard conditions, taking into account sunlight, your microclimate, and your local ecosystem.
Your designer then takes all of your customized elements to create photorealistic renderings and a custom plant, furniture, and accessories list. Yardzen encourages you to share your thoughts and ideas by tapping on the photos and adding comments for the revision process. One revision is included in the price, but you can pay for more if needed.
Here's a picture of a backyard before Yardzen:
And here's the completed design: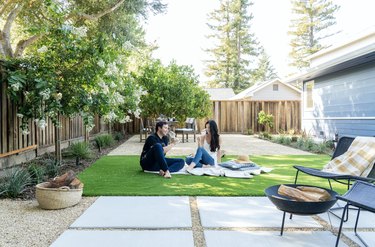 During the design process of my backyard, I had about a million questions. The team was so good about responding and walking me through the steps—it really felt like they cared as much about my feelings and opinions as they did the final outcome. As hard as it was to be patient and wait five or six weeks for the final design, they were super clear about the timeline and so great at providing updates.
Once your revised design is finished, a build team representative will get in touch to help you find the right local contractor to get the job done when you're ready. You can also hire your own contractor, or since you're spending all that time at home, maybe a DIY project is more your thing.
Here's the price breakdown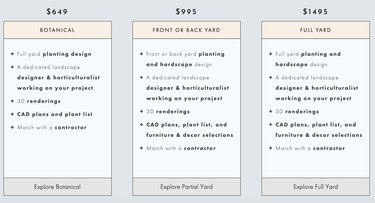 If you're seriously considering giving Yardzen a try, I highly recommend you do it. You deserve nice things.