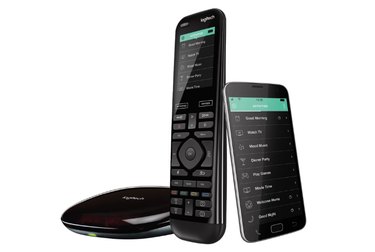 Universal remote controls are pretty magical. They unify all of your clickers into one remote control, including your streaming devices like Roku, Apple TV, or Amazon's Fire Stick; sound bar; home theater speakers; Blu-ray player; and gaming devices.
Imagine that — one remote instead of five!
The all-around best universal remote is the Logitech Harmony Elite. It can control pretty much all the tech that you have in your home and has a rolodex of over 270,000 gadgets it's compatible with. A touchscreen makes navigating your different devices quick and easy.

The remote uses WiFi to connect to a free app that can turn your smartphone into a remote, so if you can't find the universal remote, you can conveniently grab your phone to do all the things. It also works with Alexa voice commands, so if you have an Amazon Echo or another compatible smart speaker, you can turn on any device by simply using your voice.
The device has thousands of positive reviews. One reviewer wrote, "If you have multiple a sounder or Home Theatre with an AVR you have to purchase this remote. It will change your life. One thing to keep in mind though is like any other device, it does what it's told so it will only be as smart as you make it. The cool thing is the options to make it smart are endless ... With the activities you can program which devices are turned on, order, and add additional commands such as the sound mode of your AVR, initial channel for your cable box, or even turn on lights. Working in the dark? Not an issue because the remote's buttons are backlit and force feedback is built in so when you touch a command on the touch screen you know the remote has received it. For the geeks, this is one of the few remotes that can communicate with IR and RF devices."