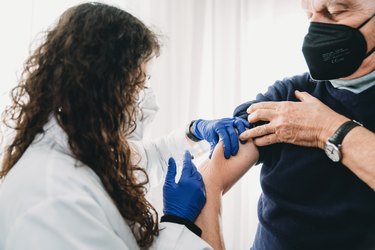 In addition to statewide clinics and CVS Pharmacies throughout the U.S., Walgreens is offering COVID-19 vaccination appointments to eligible people in select states.
Walgreens receives its own allocations of virus vaccines from the federal government, and in some states, the national chain has received tens of thousands more doses than anticipated. The increase has opened up more appointment times, which can be booked online.
Here's how to schedule an appointment
Before you take the time to sign up, you might want to first determine if you're eligible, which you can do by checking local resources or by visiting Walgreen's eligibility page.
If you're eligible, head over to Walgreens.com/ScheduleVaccine where you'll need to create a Walgreens account. Click on Get Started and type in your zip code or city and state to find out if appointments are currently available.
Complete the short eligibility and COVID-19 screening form. If appointments are available, you'll be able to choose the location, date, and time for your first and second dose. They won't necessarily be at the same location. Once you're booked, you have the option to fill out the online vaccination form, or you can choose to do that in person at the pharmacy.
If appointments are unavailable, you can sign up to be alerted when they become available in your area.