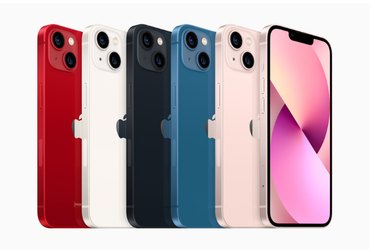 Apple announced its iPhone 13 lineup at the company's big California Streaming event on Tuesday. The new phones include... drumroll... the iPhone 13 Mini, iPhone 13, iPhone 13 Pro, and the iPhone 13 Pro Max. The models are pretty much exactly like the iPhone 12 models — at least as far as their names go). But they'll of course come with exciting upgrades, like a new A15 Bionic chip, a six-core CPU with two high-performance cores, four high-efficiency cores, and a quad-core GPU.
If none of that makes sense to you, we get it. Just know that it's all good stuff that'll make the phones run faster and more efficiently. Perhaps most exciting are the upgrades to the back cameras, with wider apertures and new video features, including a professional rack focus, which lets you slide between focus subjects, giving director Brian De Palma, who famously uses rack focuses in his films, a run for his money.
When is the release date for the iPhone 13?
The iPhone 13 release date is Sept. 24 for all four models, but you'll be able to pre-order the phones this Friday, Sept. 17.
What is the price of the iPhone 13?
The iPhone 13 Mini starts at $699 with a starting storage of 128GB (goodbye forever, 64GB). The iPhone 13 is going for $799. The iPhone 13 Pro starts at $999 and the iPhone 13 Pro Max costs $1,099. For the first time, the Pros have a 1TB storage option, which equals 1,000,000 MB. (To put that into perspective, 1TB is the same as roughly eight 128 GB iPhones.)