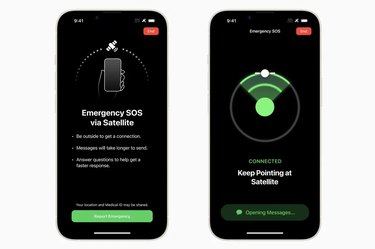 Apple is bringing on a new emergency SOS feature for iPhone 14 and iPhone 14 Pro models, and it's set to go live later this month. The feature allows users to use satellite connectivity to provide emergency services with location information and messages when they don't have cell service or WiFi coverage.
In an announcement on Thursday, Apple said the emergency feature is possible due to a partnership with Globalstar, a global satellite service that has facilities across the U.S.
If an emergency situation arrises, a user can activate the emergency SOS feature on their iPhone, which alerts a Globalstar satellite to send the request to a Globalstar ground station. From there, the message will be relayed to a local 911 dispatch center. If the nearest call center doesn't accept text messages, the request will go to a relay center that has Apple-trained emergency specialists.
Apple says that when located under clear skies, it should take about 15 seconds for the SOS request to reach the satellite.
"Emergency SOS via satellite is a perfect example of how American ingenuity and technology can save lives," said Jeff Williams, Apple's chief operating officer. "We are proud this service is enabled by leading US companies, and that our users can explore off-the-grid areas knowing they are still within reach of emergency services if they are in need."
The service will be free for the first two years for new iPhone 14 and iPhone 14 Pro users. It'll arrive via a software update to Apple's iOS 16.