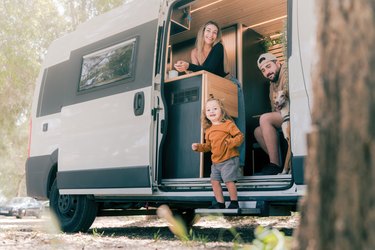 Camping is a fun, adventurous, and relaxing way to spend time with friends and family — if you can actually book a campsite, that is. Booking a site at a campground can be a gigantic pain, especially if you don't book it exactly six months ahead of time (or however many months ahead each specific campground requires). Let's be real though, who can plan a weekend camping trip that far in advance? Hi, not me.
Every couple of months, my friends, family, and I embark on a camping trip. I'm the designated booker of campsites because I subscribe to the greatest thing to ever happen to camping (aside from s'mores, obviously): Campnab.
Campnab is a subscription service that monitors campgrounds for canceled reservation. Created by Canadians Eric and Kim Shelkie, Campnab helps you snag a last-minute campsite. It notifies you via text message when a campsite opens, or it gives you an exact date and time when a campsite you're interested in will open for booking.
Once you register, you'll enter your phone number and will receive a text with an access code that'll allow you to create your profile. From there, you'll choose the monthly or annual plan that fits your needs.
Then you'll go to your dashboard to create a scan. To do this, search for a park you want to camp at and choose your preferred campground, arrival date, and the number of nights.Your scan will start running right away. Once a campsite opens (which could take a while — it's dependent on someone else's cancelation), you'll get a text with a direct link to book on your park's website. Cancelations are often rebooked within minutes or even seconds, so you've gotta move fast. The more scans you have going, the higher your chances are of finding a campsite.
Choose from a monthly or annual membership. The "Good" plan at $10/month gives you up to three concurrent scans, and the scans run every 15 minutes. The "Better" plan is $20/month and scans every 10 minutes and allows up to five concurrent scans. The "Awesome" plan at $30/month scans every 5 minutes with up to seven concurrent scans. Each plan lets you search any date within the next 12 months.
There's no guarantee that you'll be able to score the campsite after you receive a text from Camp Nab, but it absolutely gives you a much better chance of making it happen than refreshing the park's website a million times every day until you find something. I can tell you from plenty of experience that every time I've wanted to plan a camping trip, I've managed to book an incredible last-minute campsite through Camp Nab for my family and friends. Does that make me a local hero? Yes, yes it does.