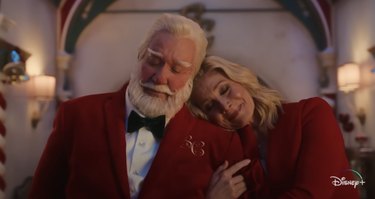 Disney+ is gearing up for the holidays with a fresh lineup coming to the streaming platform in November. The two-episode premiere of the second season of "The Santa Clauses" will land on Nov. 8. The new season of the beloved franchise follows Scott (Tim Allen) along with his family and the elves as he tries to keep the Christmas spirit alive for a new generation of kids.
You'll also be able to catch new episodes of "Loki," "Goosebumps," "The Incredible Dr. Pol," "Firebuds," and "Star Wars: Young Jedi Adventures," as well as live episodes of season 32 of "Dancing with the Stars."
Scroll on for the full list.
Firebuds (Season 2, 5 episodes)
The Incredible Dr. Pol (Season 23, 10 episodes)
Kiff (season 1, 3 episodes)
The Villains of Valley View (Season 2, 3 episodes)
Behind the Attraction (Season 2 Premiere – All Episodes Streaming)
The Three Detectives (Premiere)
Loki (Season 2 Episode 5)
Spider-Man: Far From Home
Marvel Studios Legends (New Episodes)
JFK: One Day in America (Season 1, 3 episodes)
Dancing with the Stars (Season 32, new episode live)
Star Wars: Young Jedi Adventures (Season 1, 6 episodes)
Daddies on Request (Season 2 Premiere – All Episodes Streaming)
The Santa Clauses (Season 2 Two-Episode Premiere)
Dancing with the Stars (Season 32 new episode live)
The Ghost and Molly McGee (Season 2, 4 episodes)
Hamster & Gretel (Season 1, 4 episodes)
Me & Mickey (Shorts) (Season 2, 22 episodes)
Mickey Mouse Funhouse (Season 2, 8 episodes)
To Catch a Smuggler (Season 6, 8 episodes)
The Santa Clauses (Season 2, Episode 3)
Dashing Through the Snow Premiere
Goosebumps Season 1 finale
Incredible Animal Journeys (S1, 6 episodes)
Dancing with the Stars (Season 32, new episode live)
Hailey's on It! (S1, 3 episodes)
Meet Spidey and his Amazing Friends (S3, 6 episodes)
Marvel's Spidey and His Amazing Friends (S2, 5 episodes)
The Santa Clauses (Season 2, Episode 4)
The Naughty Nine (Disney Original Movie)
Dancing with the Stars (Season 32, new episode live)
Life Below Zero (S21, 11 episodes)
Lost Cities Revealed with Albert Lin (S1, 6 episodes)
Mickey's Christmas Tales (Shorts) (S1, 5 episodes)
Assembled: The Making of Loki Season 2 (Premiere)
The Santa Clauses (Season 2, Episode 5)