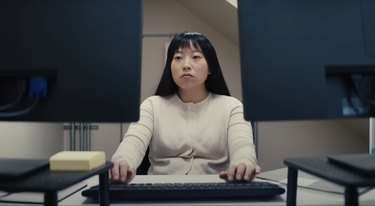 The leaves are falling, the temperature is dropping, the pumpkins have spiced everything, and Hulu has released its list of new content coming next month. November is almost upon us, and there certainly won't be a lack of things to watch.
You'll have plenty of holiday content to watch, including oldies like Adam Sandler's comedy musical "Eight Crazy Nights," "The Holiday," "The Polar Express," "Elf," "Jack Frost," and "National Lampoon's Christmas Vacation." There will also be loads of new holiday shows and movies to check out, as well as content that has nothing to do with the holidays, like "Fool's Paradise" and the film premiere of "Quiz Lady" starring Sandra Oh and Awkwafina.
Scroll on for the full lineup.
Arthdal Chronicles: Complete Season 2 (Subtitled)
Black Cake: Series Premiere
The Incredible Dr. Pol: Season 23 Premiere
Blippi & Meekah's Very Merry Treasure Hunt: Complete Season 1
Naruto Shippuden: Season 8 Episodes 414-425 (Dubbed)
Adam Sandler's Eight Crazy Nights | 2002
Alien vs. Predator | 2004
The Final Conflict | 1981
Final Fantasy: The Spirits Within | 2001
Friends With Money | 2006
Madea's Big Happy Family | 2011
The Marine 4: Moving Target | 2015
Miracle On 34th Street | 1947
Miracle on 34th Street | 1994
Omen IV: The Awakening | 1991
The Personal History Of David Copperfield | 2020
Space Jam: A New Legacy | 2021
The Wedding Planner | 2001
The Wedding Singer | 2005
Ancient Aliens: The Ultimate Evidence: Complete Season 9
Christmas Wars: Complete Season 1
The Kennedy Assassination: 24 Hours After
Pam's Garden of Eden: Complete Season 2
A Christmas Frequency | 2023
A Country Christmas Story | 2013
Christmas Ever After | 2020
Christmas Love Letter | 2019
Every Day is Christmas | 2018
Magic Mike's Last Dance | 2023
Merry Liddle Christmas | 2019
Merry Liddle Christmas Wedding | 2020
Reporting For Christmas | 2023
Sweet Mountain Christmas | 2019
Wahlburgers: Complete Season 5
L.A. Law: Complete Seasons 1-8
JFK: One Day in America: Complete Docuseries
Vigilante: Complete Season 1 (SUB)
Ultimas Ferias: Complete Season 1
The Croods: Family Tree: Complete Season 8
The 57th Annual CMA Awards: Special Premiere
Dark Side of the Ring: Complete Season 4
Mavka: The Forest Song | 2023
Central Intelligence | 2016
The Lady Bird Diaries Documentary Premiere
FX's A Murder at the End of the World: Two-Episode Limited Series Premiere
Brawn: The Impossible Formula 1 Story: Complete Docuseries
Soy Tu Fan: La Fiesta Continua: Complete Season 1
To Catch a Smuggler: Complete Season 6
Journey To The West | 2013
Nymphomaniac Volume II – Extended Director's Cut | 2013
Nymphomaniac Volume I – Extended Director's Cut | 2013
What Just Happened | 2008
White Bird In A Blizzard | 2014
Drive with Swizz Beatz: Complete Docuseries
The Secret Life of Dancing Dogs: Complete Docuseries
Incredible Animal Journeys: Complete Docuseries
My Hero Academia: Season 6, Part 2 (DUBBED)
Obituary: Complete Season 1
FX's Fargo: Year 5 Premiere
National Lampoon's Christmas Vacation | 1989
Faraway Downs: Complete Limited Series
Katak the Brave Beluga | 2023
The Artful Dodger: Complete Season 1
El Encargado: Complete Season 2
Life Below Zero: Complete Season 21
Lost Cities Revealed with Albert Lin
Wild Crime: Complete Season 3
Christmas Under the Stars
Christmas in Evergreen: Tidings of Joy
It's Beginning to Look a Lot Like Christmas