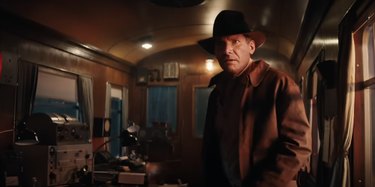 There's always a lot to look forward to each month on Disney+, but December will be an especially exciting month because you'll finally be able to stream "Indiana Jones and the Dial of Destiny" for free. Well, at least without having to rent it.
Since the kids will be home for two weeks in December, they'll have plenty to watch, including the premiere of "Diary of a Wimpy Kid Christmas: Cabin Fever," the season finale of the new season of "The Santa Clauses," and new episodes of "PJ Masks" and "SuperKitties."
Scroll on for the full list of shows and movies coming to Disney+ in December.
Indiana Jones and the Dial of Destiny
Timeless Heroes: Indiana Jones & Harrison Ford (Premiere)
Doctor Who: Wild Blue Yonder (Premiere)
Dancing with the Stars (Season 32 semifinals)
Isabel Preysler, My Christmas (Spanish Original Two-Part Special)
The Ghost and Molly McGee: White Christmess/Perfect Day (S2, 1 episode)
SuperKitties (S1, 3 episodes)
Villains of Valley View: A Very Villain Christmas (S2, 1 episode)
The Santa Clauses (Season 2 Season Finale)
Soundtrack #2 (Korean Original Two Episode Premiere)
Diary of a Wimpy Kid Christmas: Cabin Fever Premiere
Science Fair: The Series (Complete Season 1)
Dancing with the Stars (Season 32 Finale)
The Curse of Oak Island (S2, 10 episodes)
Dance Moms (Complete Seasons 3-6 and 8)
Mickey Mouse Funhouse (S3, 4 episodes)
PJ Masks: Power Heroes Music Videos (Shorts) (S1, 5 episodes)
PJ Masks: Power Heroes (S1, 5 episodes)
Soundtrack #2 Episodes 3 and 4
CMA Country Christmas Special
Hailey's On It!: We Wish You a Merry Chaos-mas (S1, 1 episode)
Pupstruction (S1, 4 episodes)
Percy Jackson and the Olympians Two-episode Premiere
Soundtrack #2 Episodes 5 and 6
Chip 'n' Dale: Park Life (Season 2 Special Christmas Episode)
Marvel Studios' What If…? Season 2 Premiere
Marvel Studios' What If…? Season 2 Episode 2
Marvel Studios' What If…? Season 2 Episode 3
Doctor Who Holiday Special: The Church on Ruby Road
Marvel Studios' What If…? Season 2 Episode 4
Disney Parks Magical Christmas Day Parade
Marvel Studios' What If…? Season 2 Episode 5
Me & Winnie the Pooh (S1, 9 episodes)
Playdate with Winnie the Pooh (S1, 11 episodes)
Rewind the '90s (S1, 10 episodes)
Percy Jackson and the Olympians Episode 3
Marvel Studios' What If…? Season 2 Episode 6
Marvel Studios' What If…? Season 2 Episode 7
Marvel Studios' What If…? Season 2 Episode 8
Marvel Studios' What If…? Season 2 Episode 9