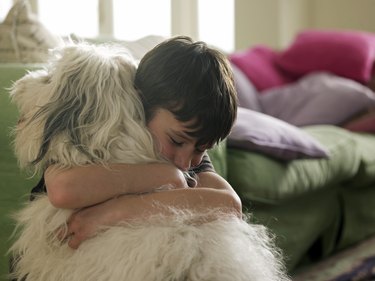 Adopting a pet is a major life decision. Finding the right animal to enter your life and be a part of your family for many many years isn't an easy thing to do. You not only need to find an animal that you instantly connect with, but you also need to find one that fits the needs of your family.
Of course, those needs vary from family to family, but one thing's for sure: once you find your most perfect pet, life will get infinitely better — for you, your family and the animal you adopt.
If you're looking to adopt an animal from a rescue organization, there are plenty to choose from. All of the animals available for adoption simply want to find their forever homes and be loved unconditionally. To help you find your furry soul mate, we've rounded up five of the most efficient animal rescue sites so you can start browsing.
Petfinder
Petfinder has helped over 25 millions animals find their forever families. On the site, you'll find pets from more than 12,000 shelters and rescue groups. Search for your new pet by location, type, breed, gender and age.
Most pets come with an adoption fee that totals around $450 or more (or less). But that typically includes veterinary wellness exam, spaying or neutering, vaccinations, heartworm test, flea/tick treatment and a microchip. Some pets are free, but come with no medical care, and the cost can add up pretty quickly. You're much better off getting your dog the care that's needed right away.
Adopt a Pet
Through Adopt a Pet, you can adopt a dog, cat, rabbit, horse, bird, farm animal, reptile, fish or other small animal.
Just look at this face. What are you waiting for?
Best Friends Animal Society
For over 30 years, Best Friends Animal Society has saved the lives of so many animals. The organization runs the largest no-kill sanctuary for companion animals. They've also built highly effective programs that reduce the number of animals entering shelters.
The Best Friends sanctuary is located in Kanab, Utah and has over 1,700 animals in need of loving homes. You can do a search on the site or browse animals at adoption centers near you.
AllPaws
AllPaws is an online pet adoption platform that's similar to online dating — only instead of finding your human soul mate, you're searching for your animal soul mate. The site features an interface complete with over 30 different search filters to help you find your perfect pet.
The organization has over 200,000 animals available nationwide.
Petango
Petango is an adoptable pet search service that offers real-time updates of adoptable pets in shelters. The organization has helped over six million animals find their forever homes since 2009.
The site offers a PetMatch tool that matches your preferences with specific animal personality traits to help find you the perfect pet.