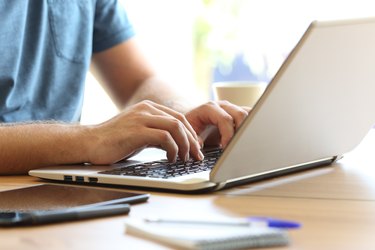 As a word processing program, Microsoft Word is primarily designed for generating text-based documents. However, it offers a limited suite of graphics tools and custom formatting options that work well for flyer creation. Making a flyer in Word is easily done using one of Word's pre-formatted templates or a custom process.
Microsoft Word for Flyers
While Microsoft Word is an excellent program for making basic flyers, it has limited graphics capabilities. A program like Photoshop or InDesign is more robust. However, Word is suitable for creating graphically appealing flyers that are simple and efficient. Announcing a garage sale, birthday party or another special event is easy with Word, but creating fully customized, professional announcements for business is better done in a program developed for that purpose.
Word is readily available and that makes it a convenient choice for flyer creation.
Use Flyer Templates
Templates are a major time saver when you are making a flyer, and all of the design elements are ready for you to customize with your information. Searching for the template in Word that is the best fit for your flyer often takes longer than customizing the flyer for printing.
Microsoft Word comes with a generous assortment of flyer templates, and many more are available at the Microsoft website. Many templates are free, and others require a premium subscription or payment for a single-use template. Word templates are diverse, and they cover every topic from band gigs to services offered for specifics like dog-walking and yard-cleaning.
Outside of Microsoft Word templates, free and premium templates are common and easy to locate through third-party providers. Perform a web search to quickly discover a wide world of templates developed for specific events and needs. Many require a fee to purchase and download. Look for suppliers that offer support and a refund policy in case the template you choose is not a good fit or doesn't function as planned. Most templates are relatively inexpensive when purchased on an individual basis.
Build a Custom Flyer
Creating a custom flyer in Word begins with a blank document. Before designing the flyer, look to templates and other flyers for design inspiration. Sketching a basic layout on paper is also a useful exercise. Create the heading, graphic placements and text and use the sketch to bring the blank Word document to life.
Add a title and play with the text size and fonts to get the new flyer started. A primary title followed by a subtitle is a common approach for flyers. Click Insert and select Photo to add a picture or graphic saved to your computer. Drag the photo or graphic element to change the position and pull from the corners to decrease or increase the size.
Add a text box to include the primary information for the event. Details such as the time, address and RSVP information are important. A map also serves as a useful graphic to include for location-based flyers. Play with the sizing on each element of the flyer and change positions to fit everything on a single page. Moving beyond a single page is fine for brochures, but a one-page flyer is easy to share and post in the physical world.
Save the final document and print a single page to confirm that it looks as you planned. Tweak anything that needs to be tweaked and print the flyers.
Word Alternatives
Google Docs is a free online program similar to Microsoft Word. It also offers flyer templates and graphic tools for custom flyer building. You can use it to generate simple flyers that look professional and attractive.
Other online programs like Canva also have templates designed by professionals. The drag-and-drop approach makes it easy to customize. Online programs require only a web browser and internet connection.