As a Web-based email service, the easiest way to use a Gmail account is through your Web browser. Without any extra software, the Web interface gives you access to your inbox and contact list, allows you to send and receive emails, and it's the only place to make changes to your account settings. It's not, however, the only option for accessing Gmail; you can log in through an app on your mobile device or through a desktop email client.
Use a Web Browser
On Desktop
Visit the Gmail website in any Web browser at mail.google.com (or www.gmail.com) and sign in to reach your inbox. On the inbox page, you'll see tabs for various types of email and links to other folders. Click an email in your inbox to open it, or click Compose to start a new email. The search bar at the top of the page searches your messages.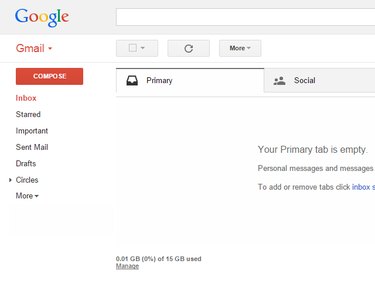 On the right side of the page, click the gear icon and choose Settings to make changes to your account, such as to customize inbox tabs, set up email client access, change the page theme or work with filters.
On Mobile
The Gmail website also works in mobile browsers. Visit the same address with your smartphone or tablet to reach Gmail's mobile page, which has a more compact design. You won't be able to change most settings from the mobile version of the website, but reading and writing email works just as well as on the desktop site.
Use an App
Official Gmail App
Google offers a dedicated Gmail app for Android and iOS. Many Android devices have the Gmail app built in, and it connects to the Google account you use with Android itself, so Gmail usually doesn't require any setup -- just open the app and you're ready to go. For iOS, you'll need to download the app from the App Store and sign in. The app offers a slicker interface than the mobile website, but the two work largely the same, so it comes down to a matter of preference.
IOS Mail App
Another option with iOS is to use the built-in Mail app. In iOS 8, open the Settings app, tap Mail, Contacts, Calendars and choose Google.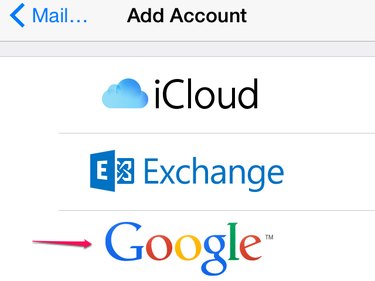 Log in with your Gmail address and password and tap Accept. Turn on the Mail option, tap Save and iOS takes care of all the technical details behind the scenes. Open the Mail app to see your inbox and write emails.
Use an Email Client
Desktop email clients, such as Microsoft Outlook, support Gmail accounts as well, giving you offline access to downloaded emails and integrating Gmail into the same workspace you use for other email accounts. To start, open Gmail's settings on the Web interface to the Forwarding and POP/IMAP tab. Select Enable IMAP and click Save Changes. Leave the other options on their default settings.
Tip
Gmail also supports POP email access, enabled on the same tab. However, unless you're using a very old email client that doesn't support IMAP, use IMAP instead of POP. IMAP is better at keeping your account in sync so you don't see duplicate emails when you open Gmail from different locations.
After turning on IMAP, you only need to add a new account to your email client and log in with your Gmail address and password. Most clients, including Outlook, Thunderbird and the Mail app for Mac, take care of the technical details automatically, so you shouldn't need to enter IMAP server addresses or ports by hand. If the program you use does request these details, enter the following settings:
Incoming server: imap.gmail.com, port 993, SSL enabled
Outgoing server: smtp.gmail.com, port 465 (Or 587 if 465 doesn't work), SSL enabled, authentication enabled.