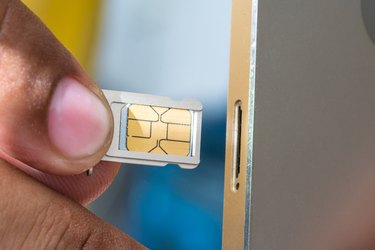 When you travel internationally, one of your top concerns is likely being able to communicate during your trip. Several large telecommunications service providers are in India, including Bharat Sanchar Nigam Limited (BSNL). If you plan to use a prepaid BSNL SIM card while in India, you need to purchase it first; then call a designated number and follow the prompts to activate the card. If you have problems, there's a BSNL customer care number you can call for help.
Activate BSNL New SIM
You can purchase a BSNL prepaid card through a variety of mobile distributor networks located throughout India. Once you have the SIM card in hand, slide the card into your mobile handset. If you don't have a handset that's compatible with BSNL prepaid cards, you can purchase one when you pick up the card.
When your card is in place, turn on your phone and input a designated BSNL verification number. This number is 123. It connects you to an interactive voice response system, where you receive the information you need on the card you just inserted. The automated system lets you know the credit available on your card and asks you to choose your preferred language.
Report Issues With BSNL Card
If you have an issue with your BSNL new SIM card, call the BSNL customer care number, which is 1800-180-1503. The service is available 24 hours per day and includes problems with your verification code.
An alternate BSNL customer care number is available for issues related to your mobile codes or calls from other places. For those instances, call 1800-180-1503/1503.
About Your BSNL Card
After you successfully activate your card using your BSNL verification number, you can make voice calls to other mobile devices or landlines and use services such as SMS, call forwarding, call waiting and voicemail. With BSNL, you also have Calling Line Identification Presentation, a service similar to the Caller ID seen on cellphones in the U.S.
The cost of a BSNL new SIM card starts at about Rs.220. Once purchased, your card works for the advertised validity period, which is typically between seven days to one year. Your BSNL card works throughout India, but you'll mostly find 3G connectivity, even though 4G is available in some places now.
Issues With BSNL Cards
After you complete your activation using the BSNL verification number, you may find you're experiencing a new problem. Telemarketers are persistent throughout India, so you may begin receiving spam calls soon after activating it. By default, any phone number issued in India has NCPR activated, which, in a nutshell, means that telemarketers are free to call or send text messages to it.
To avoid spam calls, you can activate Do Not Disturb at no extra charge. Call or text 1909 to start Do Not Disturb. Your text should read START 0. Follow the prompts to activate DND.