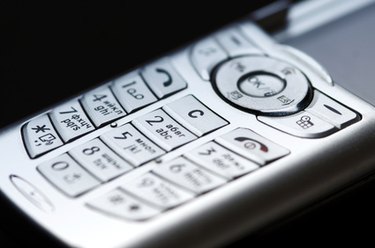 Prepaid cell phone plans are perfect for customers who don't want to be held to a long-term contract or don't have the credit to qualify for a traditional cell phone plan. Prepaid plans require no credit check or deposits. Verizon Wireless offers a variety of prepaid cell phone plans. Its plans range from a basic prepaid plan that charges one flat rate per minute for all voice calls and daily access plans that allow you to pay as you go.
Add Money in Person
Step 1
Log onto Verizon's website to access its prepaid payment locator search tool (see "References" for a link). This tool will allow you to find payment centers in your area to add minutes to your phone.
Step 2
Enter your zip code or state in the designated fields and select the "Find" button.
Step 3
Choose the Verizon Wireless store nearest you and visit the store to add minutes. Customers can pay with cash, credit or debit cards when adding minutes to their prepaid cell phone plans at these locations.
Purchase Prepaid Cards Online
Step 1
Log onto Verizon's website at VerizonWireless.com and select the tab at the top of the page labeled "Plans." This will take you to a page that details all of Verizon's available cell phone plans.
Step 2
Select "Shop Prepaid Plans," located at the bottom, right side of the web page.
Step 3
Select "Buy Prepaid Cards" and choose how may refill cards you would like to purchase. If you have a promotional code for a discount, enter that into the appropriate field and select "Continue to Checkout."
Step 4
Enter your billing, shipping and payment information. Review your order and submit it. All orders placed Monday through Friday before 4:30 p.m. will be delivered the next business day free of charge.
Step 5
Call the customer service department indicated on the card. Provide them with your cell phone number and the prepaid pin number that's provided with each card. A customer service representative will activate the card and make this balance available for you to use.
Add Money Online
Step 1
Log onto VerizonWireless.com. Select "Sign In" to access the "My Prepaid Account" web page (see "References" for a link). If you have used the website before, select the "Continue to My Verizon" button to sign into your account and skip to Step 3. New users will have to register for an account by selecting the "Register for My Verizon."
Step 2
Enter your cell phone number under the section titled "Get Started" and select "Continue." Enter your personal information such as your name, billing address and select "Register."
Step 3
Select the "Pay Now" button on the right side of the screen.
Step 4
Enter your credit card information, the amount you want to pay and select "Pay Now." Write down your confirmation number.