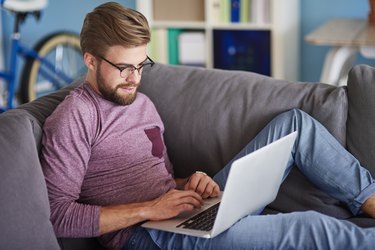 The ESPN3 broadband network is an affiliate video-streaming website of the major sports broadcast network, ESPN. It streams select live sporting events, such as college and professional basketball and football, tennis and soccer. Users can experience the exact programming on the ESPN television channel through ESPN3, which broadcasts thousands of live games and sporting events each year. To connect to ESPN3, you must first have an Internet service provider that offers ESPN3 live streaming.
Step 1
Visit the ESPN3 website (see Resources) and scroll down to the list of sporting events occurring "live," "upcoming" or on "replay."
Step 2
Open the ESPN3 live event video streaming window by clicking on a sporting event underneath the "live" tab. If you want to look at the upcoming games on the ESPN3 schedule, click on the "upcoming" tab and browse through the games that will be shown on ESPN3 for the upcoming week. If you want to watch a sporting event that has already occurred, click the "replay" tab and scroll through the list of archival games that have already been played.
Step 3
Wait for the connection to be made for the live streaming. The quality of the video may begin blurry, but it should clear up as the connection improves.
Step 4
Navigate between different live sporting events by clicking the thumbnails or the "Watch Now" link across the bottom of the window. For a full list of live and upcoming events, click on the "Schedule" tab next to the ESPN3 logo and scrolling through the list of events in the drop-down menu.
Warning
Check the "ESPN3.com Participating Providers" list (see Resources) to see if ESPN3 is offered by your Internet service provider.