Gmail, Google's Web-based email client, requires that you create a Google Account before you can send and receive messages. Further, creating a Google Account lets you have access to various Google services such as Docs, Drive and Google+.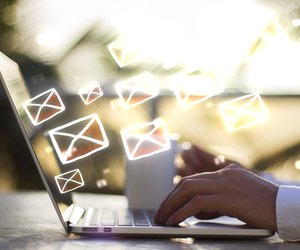 credit: peshkov/iStock/Getty Images
Step
Visit Gmail.com, and then click the Create an account button to open the Google Account creation screen.
Step
Enter your personal information such as your name, birthday and mobile number into the required fields. You must also choose a username, which automatically becomes your Gmail address; use letters, numbers and periods to create your username.
Step
Finally, create a password, agree to the Google Terms of Service, and then click Next step. If you opted to skip the CAPTCHA verification, select Text Message on the following screen, and then insert the code that you receive on your mobile to verify your new Google Account. Click No Thanks when prompted to set up a Google+ profile and you will be taken directly to your Gmail account.
To sign out of your Gmail account, click your username or portrait in the upper-right corner , and then click Sign out. You can sign back in by visiting Gmail.com.