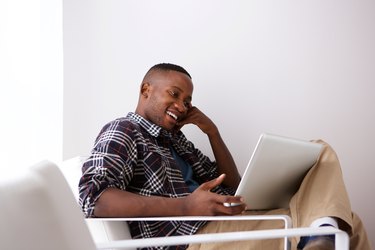 Adobe Photoshop is powerful photo editing and graphics software that is suitable for both professional and amateur creators. With Photoshop, you have amazing capabilities for editing digital photographs or creating graphic images and animations on your computer. The work environment within Photoshop is conducive for efficient work production and management of the graphics and images that the user creates. Adobe enables a user to download a free trial of Photoshop prior to purchasing the software. By creating a simple user account on the Adobe website, the free download takes only a matter of minutes. After trying the trial version of Photoshop, you will then be able to determine whether you want to invest in the full version of Adobe Photoshop.
Step 1
Visit adobe.com/downloads/ (see Resources) to find the trial download for Adobe Photoshop CS4. Click the yellow "Free Trial" button beside the Photoshop icon.
Step 2
Click "Create an Adobe Account" if you do not have an Adobe account. Fill in the required fields (designated with a red star) on the next page. Read the survey questions carefully and place checks into the boxes where applicable. Click "Continue."
Enter your email address into the "Adobe ID" field and your password into the password field if you are already an Adobe member.
Step 3
Review the download policy and privacy policy on the next page. When you are ready to proceed, select your language format from the dropdown menu in the middle of the page. Then click "Download."
Step 4
Watch while the download progresses in the next window that appears. If necessary, click "Run" to proceed with the download. When the download finishes, open the files and install the trial version on your computer.