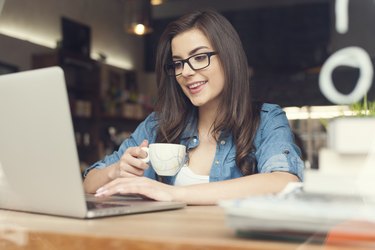 Metadata provides valuable information about the contents of your video library and can help you sort and organize your collection. Windows 8.1 allows you to edit metadata for many types of files using the File Explorer. However, to edit video metadata you need to use Windows Media Player 12. Mac OS X Mavericks and Windows 8.1 users can also use iTunes 11 to edit video metadata information. Both iTunes and Windows Media Player allow you to edit titles, episode numbers and other relevant video information.
Windows Media Player
Step 1
Launch Windows Media Player and select the "Library" tab. Select the "Switch to Library" button when in Now Playing mode.
Step 2
Right-click on the file attribute you want to edit in the library and select the "Edit" button.
Step 3
Type the new metadata information for the attribute you selected. Press "Enter" to save your changes. If you select more than one video file, then the attribute you change applies to all of the selected video files.
Step 4
Select the "Organize" tab and select "Apply Media Information Changes" if the changes are not applied immediately,
ITunes
Step 1
Launch iTunes, right-click on the file you want to edit and select "Get Info." If you want to batch edit more than one file, highlight all of the files you want to change and right-click one of the highlighted files. Click the "Yes" button to confirm that you want to change the information for multiple files.
Step 2
Click the "Info" tab and edit any of the fields to change the metadata information. You can also select the "Video" tab to edit additional fields including the show, episode ID and description. If you selected more than one file, your changes apply to every file selected.
Step 3
Click the "OK" button to save your changes.