Embedding a PDF in an email body lets your recipient to see the file immediately after opening the email rather than downloading it as an attachment. Microsoft Outlook includes the option to insert a PDF object in an email, and while this method only displays the PDF's first page, your recipient can view the whole file in Adobe Acrobat Reader by double-clicking the embedded object. After inserting a PDF in an email, you can resize and move it using Outlook's graphical editing tools.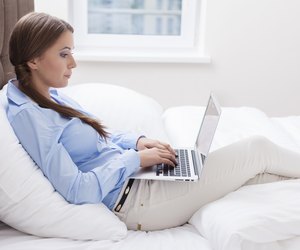 credit: moodboard/moodboard/Getty Images
Step
Open Microsoft Outlook and compose a message. Move the cursor where you want to embed a PDF object by clicking inside the email body, then press "Enter" once or twice to make room for the PDF.
Step
Select the "Insert" tab and click "Object" in the Text section. Click "Create From File," choose "Browse" and locate the PDF you want to embed. Select the file and choose "Open" to insert it into your email.
Step
Drag the object handles to resize the PDF. The eight rectangular handles are located on each corner and side of the object. When you're satisfied with the object's size and placement, enter your recipient's email address in the To field and click "Send."