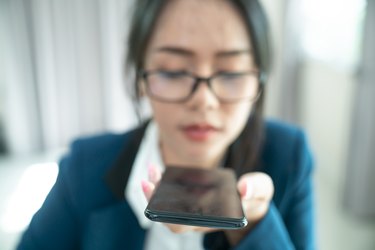 AT&T is a giant in the telecommunications industry, with more than 150 million connections across its service areas. But despite its popularity, the company still gets enough customer complaints to have a process in place to resolve disputes when they get serious. If you want to file a customer complaint against AT&T Wireless, you should first try calling the AT&T complaint number before escalating to arbitration or reporting the company to regulatory authorities or review services.
Filing Consumer Complaints Against AT&T
To keep escalation to a minimum, AT&T customer service representatives are trained to resolve most disputes. If you have trouble getting the resolution you need, you can try calling the complaint number or asking to speak to a manager. When all other measures fail, AT&T has an arbitration process in place that can help you get legal resolution.
If your issue is more related to poor customer service, though, you may want to try to file a dispute through the AT&T complaints BBB page. You can also leave negative reviews on sites like Yelp and Angie's List. In cases of fraud, though, it's best to get in touch with the FCC or your state's Attorney General's office.
AT&T Complaint Number
Your first step, if you haven't already, should be to work with AT&T customer service to resolve any issues you're having. In store, this may mean escalating it to a manager if a representative can't help you. But you can also contact AT&T customer service via phone or chat to discuss your problem.
The AT&T complaint number is 800-331-0500, or you can simply dial 611 from your AT&T cellphone. You can also launch a live chat with customer service by going to https://www.att.com/contactus/index/internet.html and clicking the Chat Live button. Chat is available every day between the hours of 7 a.m. and 1 a.m. Eastern Time.
Go Through AT&T Arbitration
If you have no luck through chat or the AT&T complaint number, you'll need to go through arbitration. AT&T requests customers interested in taking legal action go through binding arbitration or small claims court. With binding arbitration, you work with a mediator rather than the court system, which minimizes legal fees.
To initiate arbitration, you'll need to download a Notice of Dispute and Arbitration Initiation Form, both of which are available through AT&T's website. You'll have to pay the filing fee, but AT&T will reimburse you for the cost, as long as your claim amount falls below $75,000. Arbitration will be overseen by the American Arbitration Association's AAA Rules, which are also available online.
Filing Official Complaints
In some cases, your issue may not be one that can be resolved through the court system, or you might want to take action in addition to your legal filing. The Federal Communications Commission regulates wireless providers and takes all reports seriously. To file a complaint with the FCC, go to https://consumercomplaints.fcc.gov/hc/en-us.
If you feel that you've been defrauded, it may be a matter for your Attorney General's office. To file a report with your state's Attorney General, choose your state from the drop-down box at https://www.usa.gov/state-attorney-general. Another option is the AT&T complaints BBB page. The Better Business Bureau will work to resolve your dispute and, if unsuccessful, your information will be added to the information on the company's rating page.
Review Service Complaints
In addition to the AT&T complaints BBB page, you can also warn other customers through various online review sites. Customers considering switching to AT&T will read about your experience and be able to make a more informed choice. Search "AT&T complaints" or "AT&T reviews" and note the results you get. You'll likely see many reviews from others who had similar issues.
There are numerous online review services, but here are a few of the most popular to get you started:
Yelp
Angie's List
Consumer Reports
Facebook
ConsumerAffairs