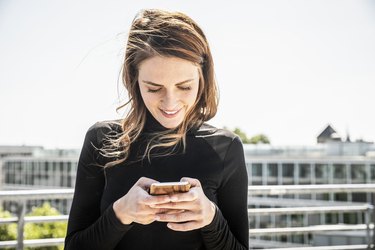 Your Sprint login is the easiest way to manage your account, phone lines and billing. If you are unsure about the account status for your phone, attempting to log in through the Sprint sign in process is a good first step. Ultimately, you will require a password to enter the account, but you can also recover the account if the password is lost.
Billing Statements
One quick and easy way to figure out your account information is through billing statements. You pay a monthly fee for the phone and unless you are enrolled in paperless billing, checking your account through a paper statement is simple.
If you have no current statements, wait for the next one to arrive, and your account name and number will be listed on the statement along with all of your fees and payment information. The primary exception here involves family and group plans where one account holder manages the payments and does everything through an online portal. In this scenario, you must dig a little deeper to figure out the account settings.
Attempt to contact the group account administrator to retrieve the login credentials for the online portal. Alternatively, ask for the account number and password that are required to access your account through both the online portal and the customer support phone number. Both options will not allow access unless you have this critical information.
Mysprint.com Email Alerts
Do you receive email alerts from mysprint.com? This means your email is associated with a phone account, and you can use the alerts to access the login page. Click the My Account link that is often located in one or multiple parts of the alert emails.
This link will lead to a new page where you must enter your password to access the account. Try a few different common password variations to see if you get lucky and can enter the account. If they fail, click the Forgot My Password link and Sprint will send you a reset password email. Open this email and follow the directions to change the password on your account.
Use the new password to log in and access your account information. The account portal will show you the phone number or numbers associated with the account, and you can quickly verify the link between your account number and phone number listed.
Call Sprint Directly
If you have no billing statements and are denied access to the online portal, calling Sprint directly is your next best step for acquiring your account number. The problem with this step is that Sprint often requires the account number and password to access your account via their phone service.
If they ask for the account number, tell them you have lost the number and seek an alternative method for verification. The operator will know you are calling from a number associated with the account and may offer assistance recovering your account information.
Visit a Sprint Store
Lastly, after attempting to recover your account number through billing statements, emails, online portals and call center operators, walk into a sprint store for help. Bring legal identification to verify you are the account owner and use the in-person assistance to help recover your account number and reset the password if necessary. One of the other methods may work but an in-person visit will definitely work and verifying your identity with a driver's license is quickly done at a store location.