If you recently moved from Outlook.com -- the new name of Microsoft's Hotmail service -- to Gmail, you can automatically receive mail sent to your old Outlook.com address in Gmail by setting up mail forwarding. Alternatively, enabling POP3 in Outlook.com lets you import both new and existing emails from your old account into Gmail.
Forwarding New Emails
Step 1
Log in to your Outlook.com account, click the cog icon and select Options from the menu.
Step 2
Click the Email forwarding link under Managing your account.
Step 3
Select Select forward your email to another email account and enter your Gmail address in the text field. Save your new settings.
Migrating New and Existing Emails
Step 1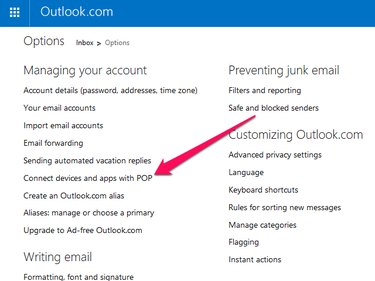 Open the Outlook.com Options page by clicking the cog icon and selecting Options. Under Managing your account, select Connect devices and apps with POP.
Step 2
Select Enable and click Save.
Step 3
Log in to Gmail, open the cog menu and click Settings.
Step 4
Open the Forwarding and POP/IMAP tab and select Add a POP3 mail account you own.
Step 5
Enter your Outlook.com email address in the text field and click Next Step.
Step 6
Enter your Outlook.com email address and password in the Username and Password fields and click Add Account to save your new POP3 account. Optionally, enable Leave a copy of retrieved message on the server before saving your new account if you do not want Gmail to automatically delete emails from your Outlook.com account after importing them.