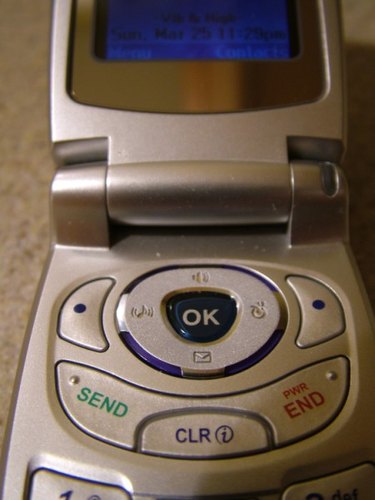 Imagine the scenario: Someone calls your mobile phone when you can't answer and doesn't leave a message. When you see the missed-call notice on your phone, you make a mental note to call back later, but you forget. The next day you realize you never returned that call but can't remember who called or what phone number it was. If you check your cell phone call history, you can easily find this information.
Step 1
Open your cell phone menu. Typically, you can access the menu by pushing the "OK" or "Menu" button (usually found in the center of your cell phone above the numbers). Some cell phone menus can be accessed from the main screen by selecting one of the toggle buttons directly under the screen and the word "Menu."
Step 2
Scroll through the menu using the left/right or up/down buttons until you find a selection typically labeled "History." Occasionally, there will only be symbols. In this case, select the image that shows a cell phone and two arrows pointing in opposite directions, to indicate calls coming in and going out.
Step 3
Remember who you called, what day and approximately what time of day a particular call was received. When you select a number by highlighting it and pushing the "OK" button, a date and time of the call will appear on your cell phone screen.
Step 4
Press the call button (usually indicated by the word "Talk" or "Send" or a green image of a telephone) to call the highlighted number.
Step 5
Access a copy of your cell phone bill. Whether you receive a paper copy in the mail or through your online account access, some bills will have a list of incoming and outgoing calls for the previous month.
Step 6
Locate the call register on the billing statement for your particular cell phone number.
Step 7
Pursue the incoming and outgoing calls. The bill lists calls in order by date and time, so you can easily search for a phone number. The bill also lists phone numbers for incoming and outgoing calls. If you're looking for a particular phone number and don't know a date, that will require you to look at each individual entry to find it.