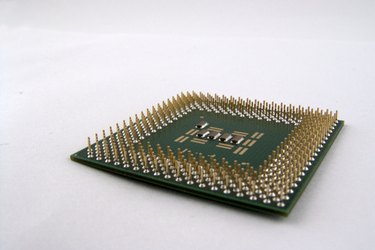 YouTube is one of the most popular video streaming websites on the Internet. The website has millions of videos available to watch, with more being added every day. YouTube uses Flash technology for video compression and streaming, which is taxing on older computers. On a computer with an older processor or video card, you may experience problems such as stuttering video or long waits before a video starts playing. With a few tweaks, you can improve the performance of YouTube videos on an older computer and make the video content more watchable.
Step 1
Hover the mouse pointer over the drop-down menu on the bottom of the YouTube video player, immediately to the right of the volume icon. The menu opens and displays the different display resolution options for the video, e.g. "360p" and "480p." Click the lowest number shown.
Step 2
Right click anywhere on the YouTube video, or hold the "Ctrl" key while clicking if you have a Mac with one mouse button. Hover the mouse pointer over "Quality," then select "Low" or "Medium." This step, along with the previous one, lower the quality of the video slightly, making it less taxing on the computer.
Step 3
Click the right-facing arrow (the Play button) in the lower-left corner of the YouTube video player to pause the video. Wait until the progress bar next to the Play button moves completely to the right, indicating that the video is fully downloaded, then press the Play button again. This prevents the computer from needing to decode the video and download data simultaneously.