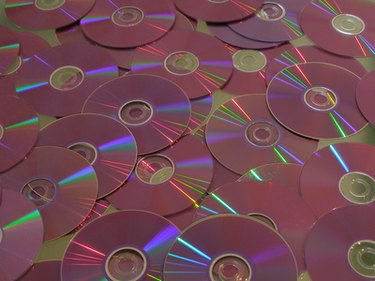 There are two steps to open a CD player on an Acer laptop computer. First, there is literally opening the media tray on the computer that holds the CD for playback. As the second step, it's also useful to know how to open the CD player software on the laptop. Windows media Player is the default CD software on an Acer and it is designed to start automatically when a CD is inserted in the computer. If it doesn't start, there is a simple procedure for launching the software to play CDs.
Step 1
Press the rectangular button in the center of the CD-ROM drive cover, which is on the right edge of the Acer laptop. The media tray pops open.
Step 2
Insert a CD in the tray and press gently on the disc so the center hole snaps onto the spindle in the center of the tray. Push the tray straight into the laptop to close.
Step 3
Click the Windows Media Player icon (colored orange, light blue and white) on the taskbar if the software does not start automatically when a CD is inserted in the laptop.
Step 4
Click the "Start" or Microsoft flag button in the left corner to locate Media Player if the icon is not on the taskbar. Click "All Programs" then double-click "Windows Media Player" when it appears on the list of programs on the Acer laptop.