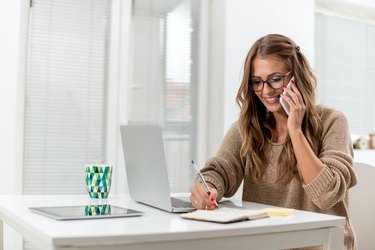 Yahoo Mail's Contacts list is your lifeline to frequently emailed friends or associates, but over time, this list accumulates contacts you no longer need. To clean up your Contacts and make it easier to find important addresses, consider removing unnecessary entries. Although you'll need to manually select each contact you want to delete, you can remove all selected entries simultaneously.
Deleting Contacts
Log in to your Yahoo Mail account and click the "Contacts" button to view your contacts. Check the boxes next to each entry you wish to delete. To select consecutive entries, click the first one, hold the "Shift" key and click the last one. Click "Delete" to remove a single selected contact or "Delete Contacts" to remove several selected contacts. Click "Delete" again in the confirmation dialog to move the contacts to the Deleted Contacts folder, where they stay for about a month. However, you can select them again, choose "Delete Permanently" and then confirm your selection to empty this folder.
Running Into Problems
If you can't delete a contact, check your Internet connection; if it's faulty, your delete command might not have been sent to Yahoo servers. If you're sure that's not the problem, then you may have encountered a known Yahoo Contacts issue, for which, as of May 2014, Yahoo ensures users that it's "working to fix it as quickly as possible." If that's not good enough for you, contact the Yahoo Help team (link in Resources).