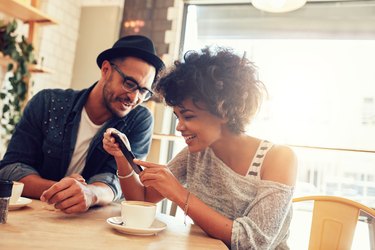 How to Send a Picture Text Message. Sending a picture text message is an exciting process that allows you to communicate with your friends and family members. Sending picture text messages allows you take photos on your cell phone and send them to your loved ones quickly. If you think you'll be sending a lot of picture text messages, you'll want to find a phone that allows you take pictures and easily transfer them to text messages.
Step 1
Take a picture with your cell phone. You can do this by finding the photo function on your cell phone, angling the photo in the manner you would like and pressing down on the "Photo Shoot" button.
Step 2
Find the function on your phone that allows you to send an MMS message. Go to the main menu on your cell phone and tap the MMS button. Follow that by tapping "New." You are now ready to send your MMS picture text message.
Step 3
Type in the email address or telephone number of the person that you want to send the picture text message to. Use your phone's keypad just as you would for a regular text message.
Step 4
Tap the "Add Photo" button on your phone's keypad. You'll find this button as an icon on the main screen of your phone. Another way to add a photo to your phone is to navigate your way to the name of the person you want to send an MMS message to and click on "Add Photo."
Step 5
Click on "Send Message." Your message is then sent and you'll see a receipt on your screen that shows your message has been sent.
Tip
When sending a picture text message, make sure that the recipient's phone is enabled to receive and show picture text messages. If it is not, they won't be able to view your message.