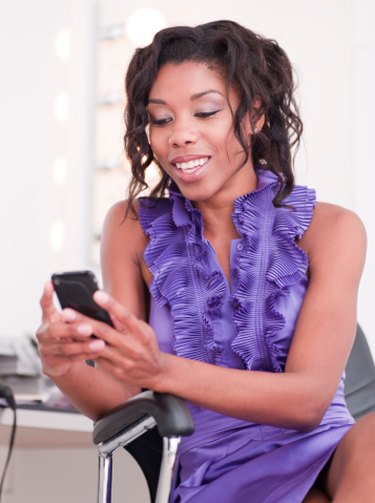 SMS messages make it possible to share Web links, email addresses and other information from your cell phone, computer and other electronic devices. Although you may be able to send a link, your friend may not be able to open it through his phone if he does not have Internet capabilities. Remember that sending links or messages with threatening content could result in legal consequences, so use text-messaging responsibly.
Sending Links from One Phone to Another
Step 1
Contact your cell phone provider by calling its customer support line or visiting your account on the phone provider's website to enable Internet capabilities. Make sure that your recipient also has Internet access on her phone in order to view any links you send.
Step 2
Click "Create a message" on your phone and then select "New Message." In the body of the text message, enter the Web URL. You do not need to include the "http://" prefix.
Step 3
Select "Send to" and then click on the desired contact from your phone book, or enter the recipient's phone number manually. Click "Send" again to send the message. When the recipient opens the message, he can click on the link itself. An option to "View" or "Go to" the site should appear. If he clicks again, he will open the page on his phone's Web browser.
Sending Links from a Computer to a Phone
Step 1
Visit an online text messaging service (see References). Enter the recipient's phone number, including area code, without dashes. Type the subject of your text message in the "Subject" line, if you desire.
Step 2
Open the desired Web page in another window and click on the address bar to highlight its link. Right-click and select "Copy." Return to the text message service window and right-click in the body of the text message. Select "Paste" to paste the address into the message, or type the address in manually. Through all SMS or text-messaging services, your message is usually restricted to 200 characters.
Step 3
Select the recipient's cell phone provider. This will format the message accordingly so that the recipient can view it. Click "Send" or "Send Free Text Message!" when you are finished.
Tip
Send the link to yourself first to see how it appears in a text message. If your friend has the same cell phone provider, this will give you an indication of whether or not your friend will be able to view the message.
If for some reason you are unable to view links, pictures or other items sent through text or SMS messages, contact your cell phone provider's customer support line for assistance.