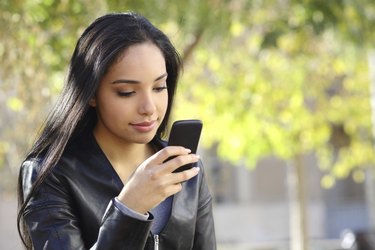 Google enables you to recover your Gmail password using the cell phone associated with your account, though Google will not text your exact password to your phone. Instead, Google texts you a reset code, which you can submit online to reset your password. After the password reset, Google prompts you to create a new password, after which you have access to your Gmail account.
Recovery Text Message
At Google's Password Recovery Page, type your Gmail username and click "Submit." After entering a CAPTCHA, click the "Submit" button again, select the Text message to option, and click "Continue" to launch the Text Message Code Verification page in your browser. When you receive the recovery code on your cell phone, enter it on that page and then a new password to regain access to your Gmail account.
Recovery Setup
Google provides both text message and email options for account recovery, and Google allows you to use either or both. To enable them, click the gear icon in Gmail and select "Settings." Click "Accounts and Import," and in the "Change Account Settings" section, click "Change Password Recovery Options." Click either "Add a Recovery Email Address" or "Add a Mobile Phone Number," enter your information, and click "Save."