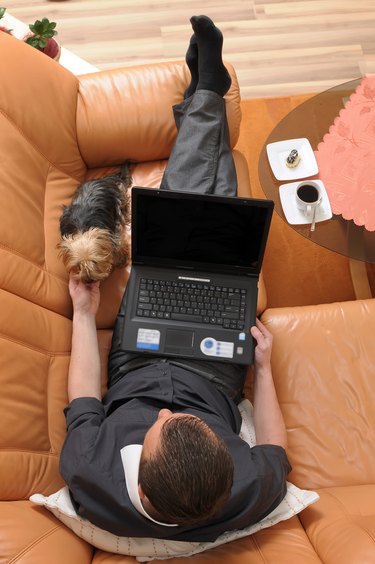 How to Set Up a Verizon IMAP Account. "IMAP" is an acronym for "Internet Message Access Protocol." It allows you to access email stored on a dedicated client from a remote server, and offers some advantages over setting up a POP ("Post Office Protocol") account, which is generally the other option available to most users. IMAP allows you to stay connected to the server for an extended period of time, whereas POP only connects you for as long as it takes to download your messages into your Verizon email client.
Step 1
Make a note of the full and correct username associated with your Verizon email account. For some account types, the username is considered the portion of your email address which precedes the "@" sign. Conversely, the entire address (following the form "name@domain.com") may be considered the username for the purposes of IMAP setup. If in doubt, contact Verizon for clarification.
Step 2
Learn the default password Verizon created for your email account. You'll have the chance to change it later. For now, just use whatever combination of letters and numbers Verizon provided you with.
Step 3
Use mail.verizon.com as the name of your incoming mail server. If that is not accepted by the IMAP system during setup, contact Verizon to see if the name of the incoming mail server has changed. If so, write it down and ask the name of the outgoing mail server as well--you'll need it.
Step 4
Expect that the name of the outgoing mail server for Verizon email service will be "smtp.verizon.com." You'll need to provide the system with this information as well in order to set up your IMAP successfully.
Step 5
Contact Verizon customer service if you're asked to provide a domain name and you don't know what it is. Contact information is available on the Verizon website (see Resources below).
Step 6
Insert the CD-ROM Verizon supplied you with when you subscribed to their Internet service. It contains the software you'll need to install the Verizon email client. Follow the instructions to install the client.
Step 7
Set up your Verizon email account using IMAP by providing the information you're prompted to enter. This will include your Verizon username, email password, the names of the incoming and outgoing mail servers, and the domain name may also be required. Once you enter this information and click "OK" (or whatever equivalent is used), your Verizon email will be configured for IMAP service.
Things You'll Need
Verizon email username and password

Incoming and outgoing mail server names
Tip
IMAP4 or higher allows users to create new mailboxes, rename existing ones and change the username associated with the email account. If you have the choice between POP and IMAP and these features are important to you, opt for the latter.