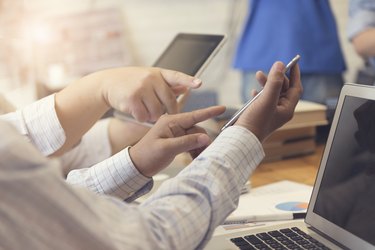 The iPhone is Apple's popular smartphone that combines a phone, Internet browser, and music player in one device. An iPhone can be connected to a computer to sync the device, allowing calenders, songs, addresses and photos to be exchanged between phone and computer. Apple's Macbook laptop can sync with the iPhone provided you have the proper cables.
Step 1
Connect the larger plug on the USB cable to the iPhone. It should snap into place.
Step 2
Plug the other end of the cable into the MacBook's USB port. iTunes should launch automatically.
Step 3
Click on the iPhone image and name in the left hand drawer in the program. The phone's information should show up on the right.
Step 4
Click on the tabs in the window and choose what information you would like to sync. You can sync photos, music, contacts, applications and ringtones.
Step 5
Press "Apply" in the lower-right corner of the screen to sync the iPhone with the computer. You will be asked in your first sync whether you wish to merge data between computer and phone, replace the data on the phone, or replace data on the computer. In the case of a new Macbook you will likely want to replace data on the computer, which backs up your iPhone data on your new computer.