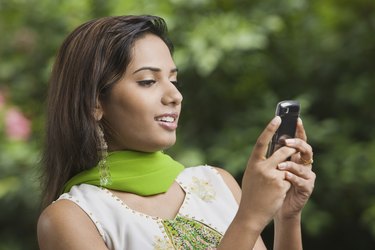 Unblocking blocked incoming cell phone calls allows restricted callers to call your phone again. The process of unblocking the specific caller is just as easy as the blocking process itself. You do not need any technical assistance for the entire procedure.
Step 1
Get access to your mobile phone's restriction code, in case you do not have it already. This code is necessary for reaching your phone's restriction settings. To get the code, contact the cell phone service provider helpline. You will be asked for your account information, including your name, account password, billing address and more. Once you provide the information, request the restriction code.
Step 2
Select "Menu" on your cell phone. Go to the "Settings" option. Select "Security" to configure the new settings.
Step 3
Select "Call Settings," "Selective Call Block" or "Restrictive" option from the context menu of "Security." The option title will vary in different cell phone models. Upon selecting this option, you will be prompted to provide the security restriction code of the phone.
Step 4
Enter your phone's restriction code in the field. You will see the numbers you have blocked on your phone. You can either choose to erase all the numbers here or select a particular number you want to unblock. Once selected, press "OK" to apply the new settings.
Step 5
Check if the new settings are working. If possible, ask someone you had blocked earlier to call you. If the call gets connected, it means you have successfully unblocked the caller. If not, go to the settings again and see if the person's number is still in the list. Erase it again and try once more. If he is still not able to connect the call, contact your service provider and inform them of the problem.