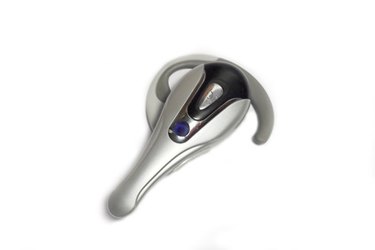 The UConnect system used on Chrysler, Dodge and Jeep vehicles allows Bluetooth phones to be paired to the vehicle's audio system. This allows phones to be controlled via voice commands, and it allows drivers to take phone calls over their vehicle's speaker system. In order for the Bluetooth component of the UConnect system to be paired properly, a phone must be Bluetooth compatible and the Chrysler vehicle must have a UConnect-compatible radio and Bluetooth receiver installed from the factory. In some cases, UConnect can be added as an accessory at a dealership.
Step 1
Enable Bluetooth on your phone. Open the Bluetooth settings menu and turn the Bluetooth radio on. If your phone has an option to make the device discoverable, ensure that it is also enabled.
Step 2
Pair a phone. Press the UConnect button (a picture of a phone handset) and say, "Setup." Next, say, "phone pairing" and, at the following prompt, say, "Pair a phone." You will now set a four-digit PIN number that will be used for the connection.
Step 3
Complete the connection. On your cell phone, under the Bluetooth menu, begin searching for a new device. You should find a device called UConnect or Chrysler, which you must select. Next, enter the four-digit PIN number.
Step 4
Test functionality. Once the phone and UConnect radio are paired, attempt an outgoing call. You can dial using your cell phone handset or by pressing the UConnect button and saying "dial."
Step 5
Learn UConnect commands. Although most UConnect dialing is done by saying "dial" after pressing the UConnect button, you may also dial from the cellular handset as you normally would.
Things You'll Need
Bluetooth-enabled phone

Chrysler vehicle with UConnect
Tip
The UConnect system is designed to transfer calls from the audio system to your cellular handset when the vehicle is turned off. Similarly, a call can be transferred from your handset to the car audio system when you get in the vehicle and start it.
You can also store names in the UConnect system, allowing you to dial numbers by name tags. To store a name, press the UConnect button and say "phone." At the next prompt, say "phonebook new entry." You will hear a beep, after which you must say the name of the contact. Next, you will be asked for the phone number for the contact. Once the information is stored, you can call by name tag by pressing the UConnect button and saying "call," followed by the name of the person you want to dial.
Warning
Although the UConnect system uses simple voice prompts, it is safest to program the system only when the vehicle is at a stop.