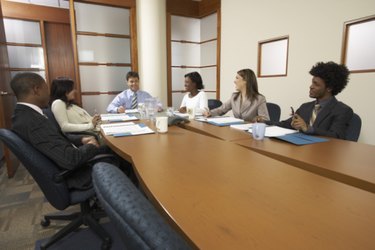 In a busy office with multiple conference rooms, it can be difficult to keep track of which conference rooms are in use at what times. The calendar in Microsoft Outlook can be used to schedule your meetings, appointments and events and can also be used for office-wide events, such as the schedule for conference rooms. You can configure one calendar to schedule all conference rooms, so staff can easily see conference room availability for any time and date.
Step 1
Open Microsoft Outlook. Click "Calendar" on the Favorites panel. Right-click "Calendar" and select "New Calendar." Enter a name for the new calendar, such as "Conference Room Schedule."
Step 2
Click "Schedule View" in the Ribbon interface. Right-click in the calendar and select "New Appointment."
Step 3
Click "Categorize" in the Ribbon and select "All Categories." Highlight a color category and click "Rename." Enter a name for the category, like "Conference Room 1" or "Lobby Conference Room." Rename additional color categories, one for each conference room. Click "OK."
Step 4
Enter a meeting or event title in the Subject text box. Enter the conference room name or number in the Location text box. Enter the day and start time for use of the conference room and the time to end use. If a conference room is needed for multiple days, you can change the end date as well.
Step 5
Enter details of the meeting scheduled in the conference room in the main window. You might include a description of the meeting and a list of those attending.
Step 6
Click "Category" in the Ribbon and click the conference room where the meeting will be held. This color codes the meeting on the calendar and easily differentiates between multiple conference rooms in use at the same time.
Step 7
Click "Save and Close" to close the conference room event and return to the calendar.