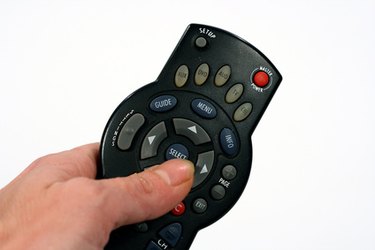 Time Warner Cable uses remote controls made by several companies including Scientific Atlanta, Contec and Universal Electronics. Each brand of universal remote requires a similar step-by-step procedure to program that brand of remote to work with your television, cable box or DVD player. If your model of remote is different, Time Warner also has a link to all of its user manuals.
Step 1
Turn on the device that you want the Time Warner remote to operate. This can be your TV, DVD player or VCR.
Step 2
Press and hold the "SEL" and "MUTE" buttons at the same time until the power/mode buttons begin to illuminate in slow rotation.
Step 3
Locate the three-digit code for the brand of device you are using in the list found on the Time Warner Cable website.
Step 4
Enter the code on the remote's keypad. A successful entry of the correct code will cause the device you are trying to operate to turn off.
Step 5
Press "MUTE" directly after finding a code that causes your device to turn off. If the device turns back on, then press "SEL" to lock in the code and you are finished. If the device does not turn on, continue to step 6.
Step 6
Enter different three-digit codes from the list used before until the device turns back on. Once the device turns on, press "SEL" to lock in the code.