Bookmarks on Pandora Radio save songs to a list in your profile, making it easier to find their information again later. Bookmarking a song does not let you play it again on demand -- all music on Pandora plays in a randomized order -- it only saves a link to the song's information page.
Create a Bookmark
Pandora App
Step 1
Tap the arrow icon to expand the current song's information.
Step 2
Open the More Options menu with the ... icon, and tap Bookmark.
Pandora Website
The Web version of Pandora does not let you create new bookmarks. To save a shortcut to a song's information page using the website, like it instead.
Step 1
Click the name of the current track to open its information page.
Step 2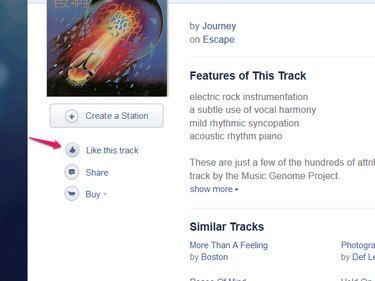 Click Like This Track to add the track to your Likes list.
View Bookmarks
Pandora App
Open the Profile tab and tap either Bookmarks or Likes to see your saved songs and artists. Pick one to see its information page or share it.
Pandora Website
Click My Profile and choose Bookmarks or Likes to see your saved pages on the website. Even though the site can't create bookmarks, it can display bookmarks you saved in the app.