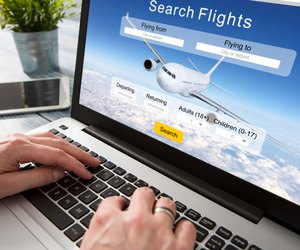 credit: scyther5/iStock/GettyImages
Everyone loves saving money, especially when it comes to traveling. Unless your trip is covered by your job or a super generous person in your life (aka, a hero), it's inevitable that you'll be spending a lot of money. Traveling is expensive, but it doesn't have to be as pricey as you think.
Instead of just accepting the airfares you find while browsing an airline's website, you might as well check out alternative options that might be cheaper.
We found some really great free apps that are sure to save you money on flights. For some of them, you'll just need to be patient and wait for the fares to go down. For others, you might need to be a little flexible with your travel dates. But overall, these apps are definitely worth checking out if you want to save some cash.
GTFO
GTFO (Get The Flight Out) is a very simple app that can help you take a last-minute trip to a large number of cities throughout the world. Simply enter your departure airport, and the app will put together a list of the cheapest next-day flights.
Once you've found the flight you want, the app connects you to the airline's website to purchase your ticket. Available on iOS and Android.
Thanks Again
Save money in the long run when you buy coffee, food, drinks, etc. at airports with Thanks Again. Collect points and redeem them for airline miles, hotel stays, cash back, seat upgrades and other fun stuff.
Over 1,000 merchants are registered with the app, so you'll have plenty of goodies to choose from. Available on iOS and Android.
Jetradar
This one's meant for people who want to get away, but don't have one particular location in mind. Jetradar's Price Map lets you check out the cost of flights to cities around the world. That way you can find crazy good deals that fit your budget.
The app also offers push notifications that will alert you if ticket prices go down. Download for iOS and Android.
Hopper
Get the best deals on flights and find out the best times to purchase them with Hopper. The app "analyzes billions of flight prices daily," saving you up to 40% on flights.
Once you find a particular flight you're interested in booking, the app tells you whether you should purchase right now or wait. It also tells you when prices drop and when they're about to go up. Available on iOS and Android.
Kayak
Sometimes travel dates aren't flexible, and that's totally fine. Kayak will give you the best available deals on the exact dates you need.
Kayak finds you the best deals possible by searching apps like Orbitz and Travelocity, as well as its own specials. You can book your flight directly through the app instead of being rerouted to the airline's website. Available on iOS and Android.