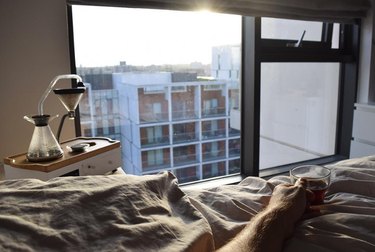 Hello. You're probably going about your day as usual, not aware that you've been missing out on the most ingenious (and very, very lazy) way of getting your morning cup of coffee. Well, get ready to contemplate shelling out hundreds of dollars for something you definitely don't need, but most definitely will want.
The Barisieur Coffee Brewing Alarm Clock is a rather cool looking alarm clock that actually brews your cup of coffee when the alarm goes off. It makes pour over coffee (or loose leaf tea), and it'll be ready for you to drink by the time you're ready to get out of bed (or to drink in bed while living your best life).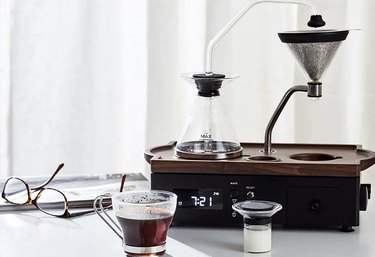 It comes equipped with a refrigerated compartment to store your creamer, drawers for storing essential ingredients, and glassware. All you have to do is set it up the night before and you'll wake up to the perfect cup.
The alarm clock is pricey, but if you're serious about coffee and laziness (the good kind of laziness, of course), it might be for you. Buy it here for $445.