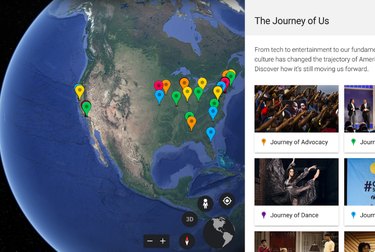 Google is honoring black history month in several ways, giving people lots of resources to celebrate and learn about the history of black culture. One super cool way to learn more is through Google Earth, which is offering an interactive, digital tour of how African Americans have shaped the U.S.
Together with the Schomburg Center for Research in Black Culture and Howard University's Moorland-Spingarn Research Center, Google launched The Journey of Us, which is a collection of colored pins located on the Google Earth map that explores six themes of innovation: advocacy, education, film and TV, business, dance, and technology. Learn how black culture changed, and continues to change, the trajectory of American history.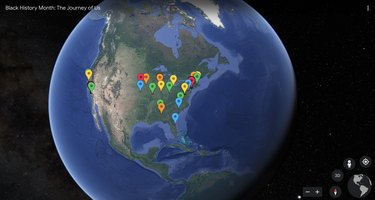 Choose any pin to click on or select a specific subject to explore. Each pin takes you to a different landmark, showing you what that location looks like today, along with a blurb about its significance.
Take a look at the spot in Topeka, Kansas where the NAACP advocated for educational de-segregation in 1954; head to Washington, D.C. to learn about the March on Washington in 1963; and read about Mary McLeod Bethune founding HBCU in Daytona Beach, Florida in 1904, and then working as an advisor to President Franklyn D. Roosevelt.
"My story is a single pin in a sea of many," Marian Croak, a vice president of engineering at Google, wrote in a blog post about The Journey of Us. "The stories include generations of people who pushed boundaries and resisted limiting ideologies as they paved the way for the next generation. While we hope to make their journey a little better than ours, it mostly certainly won't be easy. People will doubt us, and at times we will doubt ourselves, but through it all we will push forward."