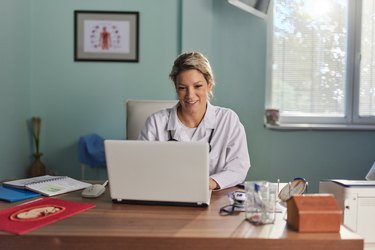 When you go to the internet for medical advice, you want to know that the person dispensing the advice is a reliable medical professional and an expert on the topic. YouTube has a plethora of videos featuring doctors and nurses offering advice on a range of medical issues — and that's really great and helpful for people who don't want to or can't get in to see a doctor in person. The problem is, it's hard to know if the "expert" is actually an expert.
In an effort to tackle medical misinformation, YouTube announced on Thursday that licensed health care professionals who post health videos on the platform will now be able to apply to be labeled as reliable. Once approved, a panel will be added to their videos that mark them as reliable health information sources. They'll also be able to add their videos to health content shelves, which categorizes content based on specific medical conditions.
Licensed medical professionals eligible for the feature include doctors, nurses, psychologists, marriage and family therapists, and social workers. YouTube will verify the applicants' licenses, and the healthcare professionals will have to agree to follow the best practices for health information sharing developed by the Council of Medical Speciality Societies, the National Academy of Medicine, and the World Health Organization, which requires that information be science-based, objective, transparent, and equitable.
Dr. Garth Graham, Global Head of YouTube Health wrote, "This is a big step towards helping people more easily find and connect with content that comes from the extraordinary community of healthcare creators on YouTube – the smart, dedicated and creative folks who are transforming the ways that we share medical information."