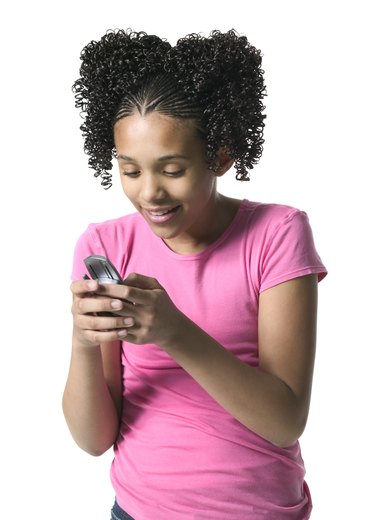 Text messages sent via computers usually begin with a special cellphone service provider's email address, after which the text message is forwarded to a cellphone. For example, in the U.S. Verizon customers use "cellphonenumber@vtext.com," from which short messages are sent as text messages to that cellphone number. Because these computer sent messages are email-based they can be traced just as regular email can be traced.
Cellphone Providers
Cellphone service providers are required by law to keep text message records. Text messages received on cellphones via the computer are placed into an inbox. The person receiving the message can ask their cellphone provider to trace where the message originated from. The service provider can provide details about text message transmissions sent from anywhere. Tracing text messages sent via a computer may require a more sophisticated technique.
Security
Your cellphone service provider may need to ensure that you desire text message information for genuine reasons and may have policies in place regarding tracing text messages. Be prepared to provide a reason to your provider about why you need to track a text message; perhaps you have received unwanted text messages from a company or you want to track text messages to protect a family member or a child.
Cellphone Tracking Services
Online cellphone tracking services provide software that tracks and traces sent and received text messages. You must first install the required software on the cellphone where messages will be traced. Cellphone text messages will then be monitored and notifications are sent online to the requester. The person using the service can check their online account to view the records. These services usually charge monthly fees. Some of the more popular cellphone and text messaging software includes Mobile Spy (mobile-spy.com), My Mobile Watchdog (mymobilewatchdog.com), SpyBubble (spybubble.com) and SafetyWeb (safetyweb.com).
Details Provided
Your cellphone provider or cellphone tracking service should be able to provide details of all text records, including messages sent via a computer. Some other details they can provide might include Internet protocol locations, the time and date the message was originated and the name of the individual or company who sent it.
Law Enforcement
If your cellphone provider or an email tracing service is unable to assist you, it may be necessary to check with your local law enforcement office. Local law enforcement agencies have the authority and technical means to trace text messages from persons who use Web portals anonymously. Most states have an anti-cyberstalking law in place that makes sending unwanted text messages a criminal offense. Be prepared with all of your details to file a police report and remember to go to law enforcement only if you feel a criminal offense has occurred. Include as much specific information about the potentially unlawful text messages as possible.